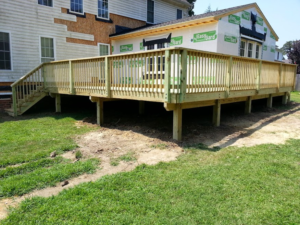 Benefits of Exterior Remodeling
LHC Services will talk with you about which exterior elements of your home you'd like to update. In general, exterior upgrades improve one or more of these critical areas:
Energy Efficiency – A new roof or new siding will create a stronger barrier for your home, insulating it from Virginia's hot and cold temperatures. You'll save money on cooling and heating and, with a smaller impact on the environment, you may qualify for tax incentives, too.
Property Value – Your investment in the 'curb appeal' of your house and its durability improve the value of your home. A recent industry survey showed curb appeal is second only to house size in affecting a home's value.
Home Safety – Newer windows and doors will be sturdier and more secure, acting as a deterrent to intruders, of both the human and insect variety, who are looking for an easy way into your home.
Your Enjoyment of Your Home – When your home's exterior features attractive windows, doors, or siding, you'll be more likely to smile when you drive up to it. Newer materials like vinyl siding or gutters also require less maintenance, giving you more time to spend with family and friends.