A range of lumbers including  appearance-grade lumber, pressure treated lumber and kiln-dried dimensional lumber are used to install wood decks. If you want to build a traditional and cost-effective deck, solid wood would be the best. But in terms of maintenance, you would need to spend some money regularly. We are the preferred choice of many for wood deck installation Richmond, as we do a marvelous job that stands out from the rest. 
Composite decking is considered as an alternative to wood decking. Made primarily from recycled plastic material like polyethylene and/or polyvinyl chloride, wood chips or particles, or sawdust, composite deck material is the right choice for an almost maintenance-free deck.
So the real question is- "Why composite deck is so popular? For that matter, what are the advantages of a composite deck?"
First of all, composite decks are extremely durable. They last longer. The best thing about this deck is that you won't ever have to refinish your deck. It's a great advantage for every homeowner.
Furthermore, a composite deck is resistant to mold, which is absolutely fantastic.
Secondly, maintaining the composite deck is as easy as it gets. You can stain composite, but the existing coloring is even and boards a free from defects. The only maintenance required is either washing or sweeping with a broom to clean it and that's it. You are done. It's water-resistant and ecofriendly. Plus, it will not splinter or rot. Bugs won't be able to do any damage to your deck. Those of you, who had a lumber deck, know how devastating bugs can be for your deck. So it's extremely dynamic in a sense. It's one of the many reasons why some people prefer composite decks.
You can buy it as tiles and boards. Tiles are extremely easy to install and you can customize the deck. But they may not always be sturdy. On the other hand, boards are similar to traditional lumber but easier to maintain.
With all said and done, you'll need a team of experts to get the job done and make sure that the deck fits the aesthetic style of your home. This is where our experienced and professional local deck contractors Richmond come in.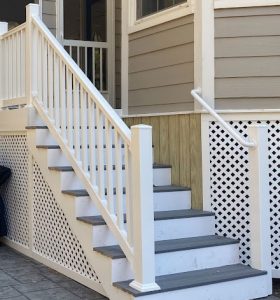 Adding a railing to a deck provides safety and perfection. Deck railing comes with a variety of options including sizes, color and materials. Whether you choose vinyl railing,  aluminum railing or wood railing, we can add as well.