Concrete Contractor Richmond
Concrete is the most commonly used man-made material in the construction of buildings, walls, floors, bridges, and roads. It's the foundation of where we live, work, and play. When concrete is damaged or disrupted, the effects can be costly and dangerous.
In business since 2000, LHC Services has expertise with concrete construction and repair. We offer a wide range of concrete applications including driveways, patios, pool decks, sidewalks, pathways, porches, steps, floors, and slabs in Richmond, Midlothian, Chesterfield and Powhatan Areas. We provide decorative services such as stamping and can create specialized surfaces like basketball courts.
No. 1 Local concrete contractor company in Richmond VA
If you are someone who is from Richmond and to hire a concrete contractor company, then LHC can be a solid choice. We offer all sorts of services and we can do almost anything with concrete. If you need a concrete driveway, we'll make the best driveway. If you want Concrete Patios, We'll give you that because we are extremely efficient when it comes to providing decorative stamped concrete patio services.  Not to mention that our concrete pool Decks are the best in Richmond and we have other services as well.
Reliable Concrete Contractor in Richmond, VA
One of the basic elements that built our modern civilization is concrete. Basically, it's a building material, and it is made of cement sand and coarse aggregates mixed with water. Over time it hardens and forms concrete. In Richmond, there are plenty of concrete contractors, but it's difficult to find the best team for the job. That is where LHC service stands out.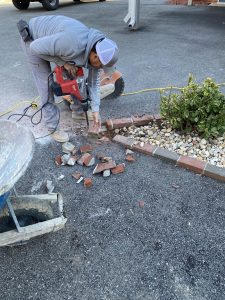 Concrete Repair Richmond VA
Nothing lasts forever. Concrete projects like patios, driveways, pool decks, basketball court, porches will eventually decay. So what's the solution. Well, in that case, you'll have to repair these things and LHC Services does offer that service. Our team will go to your house and solve these issues with care. That's why we don't feel hesitant to say that we are one of the best concrete companies in Richmond, VA.
Affordable Richmond Concrete Specialists
Yap, that's right. We are indeed reliable and affordable. In Richmond, we are your premier concrete contractors. We have been in this business for a long time, and our team knows what you want and what you need. The amount of experience we have and the way we do our work will please you for sure. Don't just take our word for it. Just ask someone who worked with us before, and you'll understand what we are talking about.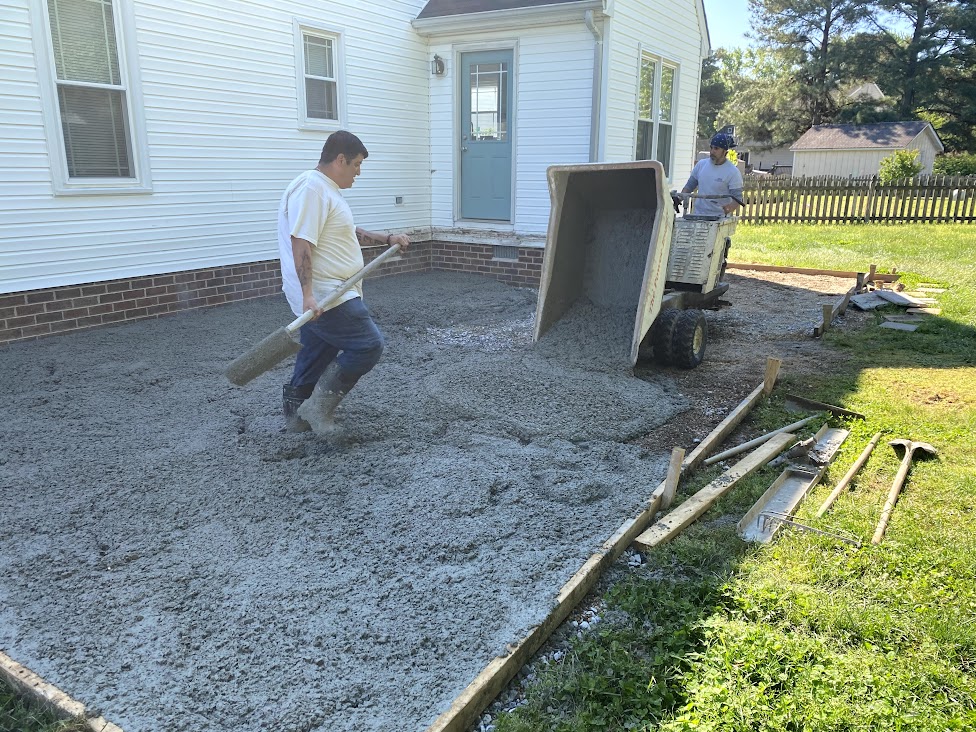 How do I choose the right concrete Contractor Richmond VA?
Concrete Floors & Slabs
Construction Concrete is a durable flooring material for garages, basements, and utility areas. It also provides a strong base for slabs that hold items like air conditioners, boats and laundry machines. LHC Services installs concrete floors and slabs with the appropriate weight and supports to withstand heavy equipment and environmental conditions.
Repairs and Leveling In outside areas where the ground has shifted, concrete floors and slabs may need re-leveling and repairs. LHC Services lifts and mud-jacks slabs back to level. We can also complete floor resurfacing or hole repair.
Concrete Sidewalks & Pathways
Construction When appropriately installed, concrete sidewalks and pathways can last up to 40 years, standing up to heavy foot traffic, weather, and fast-changing temperatures. LHC Services can pour new concrete paths, enhancing them with color and texture to blend with your landscape or home design.
Repairs and Leveling LHC Services uses mud-jacking and leveling techniques to repair existing surfaces. Repairs typically take one day, with sidewalks and pathways ready for use immediately after we complete your service.
Concrete Porches & Steps
Construction Porches are extensions of your home that create first impressions. Depending on the size, porches can also be a gathering place for family and friends. LHC Services can design and pour a concrete porch and steps that fit your home's architectural style and your needs. Concrete stains and stamping can add warmth to traditional grey, or we can work with the clean, modern lines inherent in concrete.
Repairs and Leveling If your porch has sunk or pulled away from your home, LHC Services will use mud-jacking and leveling techniques to restore the correct placement. We'll level, fill holes, and resurface porch steps.
Concrete Basketball Courts
LHC Services has the experience and expertise to design and build sports surfaces like basketball courts. We accurately grade the court and install a vapor barrier before the pour. We'll apply primer, resurfacing material, and acrylic paint, creating a full or half-court ready for competition.
Contact LHC Services for information about concrete construction or repair. We provide services to the Midlothian, Chesterfield, Powhatan and Richmond, Virginia area.
Concrete Footer and Foundations
A footing is commonly used to provide a stable base around the entire perimeter of a structure. A footing supports the weight (load) from the exterior or foundation walls. The footing thickness provides the strength needed to support the weight. The wider width of the footing base creates a large area to transfer this weight to the ground and to prevent settlement.
For any construction project, you need a strong foundation. It's an obvious fact and everyone who works in this industry knows it. The success of your construction project depends heavily on its foundation. If the foundation isn't right, the whole project will fail. Poor foundation makes the concrete more susceptible to cracking. As it's the most important aspect of any concrete project, you have to make sure that you build a proper foundation for your project. So the bottom line is that you have to hire the most skilled and experienced bunch of people for the job and LHC Services does have some the best people for this sort of task.
Concrete Flatwork
As the name implies, concrete flatwork means creating a perfectly smooth surface. Concrete flatwork applies to almost any flat concrete surface like driveways, patios, or sideways. For homeowners or property owners, it is really popular because they have the choice of decorating the surface and make it beautiful. It's not the easiest task by any means. So it's best to hire a bunch of professionals to make sure that you get what you need. This is where LHC Services will help you out.
Concrete Pouring and Finishing
A good concrete slab is extremely important because It has to support a huge variety of weights. So the installation process has to be handled skillfully. So pouring a concrete slab is extremely important. Basically, it's a 5-step process. In order to start the whole process, you'll need to prepare the sub base. The sub base has to be compacted in order to prepare it for the concrete to come. The next task is setting concrete forms. The third step is to pour the concrete into the form. After that, the finishing process begins. Finally, when the finishing process ends, concrete is left to cure. You need your concrete surface to be flat and level in order to get the best out of it. It also needs decorative touches to make it attractive. It's not necessarily the most difficult task but it still requires experienced technicians. Rest assured that LHC Services will have your back. We have some of the most skilled concrete finishing technicians who will do the job for you. With our concrete finishing services, we can finish your concrete slab quickly and efficiently.
What Our Clients Say About Us
It's always a joy to hear that the work we do has positive reviews
It was really pleasure working with Lee and his crews! They help us design and build a small deck with a screened porch. Lee is very responsive and professional. Highly recommended!
We needed our garage stairs remodeled to give us more space in our garage so we contacted Lee Pack of LHC. He did a fantastic job. He was fast, efficient, and gave us a good price. He even was able to use some of the materials from our original stairs to save us money!
Very reliable and trusted deck company. I needed to expand my old deck within a tight budget. They sent someone onsite and provided an estimate and it didn't seem unfair. Lee and his team get the job done in a timely manner. They have honest skills and abilities.
We needed our garage stairs remodeled to give us more space in our garage so we contacted Lee Pack of LHC. He did a fantastic job. He was fast, efficient, and gave us a good price. He even was able to use some of the materials from our original stairs to save us money!
LHC Services is the best, period. The main thing that compels me to recommend LHC Services is the fact that most of the employees here are so experienced and building a garage is just a cake to them.
We were beyond impressed with LHC! I contacted 6 other contractors before deciding on them. The first thing that struck me was Lee Peck's level of professionalism and knowledge. He and his crew were able to build a deck in a week. His prices were much lower than the competition, and the quality far exceeded my expectations. We have received so many compliments! We will definitely use this company in the future.
Lee and his crew did a great a job with a tricky deck installation. Great prices and passed all my HOA requirements. Lots of compliments from my neighbors. Will be calling him back for our fence needs!
LHC Services was great. I was a bit skeptical at first. But after working with them, all of my skepticism was gone. In Short Pump area, LHC Services is probably the best (At least from my point of view). All thanks must go to Lee and his crew. I wanted a concrete patio and they made a beautiful one. My neighbors loved it. But most importantly, my wife loved it. And we all know, "Happy Wife, Happy Life."
I don't know about others but they did a pretty good job with my project. I live in Midlothian and I wanted to build a concrete basketball court for me and my son. But we had very little space to offer, and I wasn't sure whether I should hire a contractor or not. If the people I hired weren't professionals, they could have messed it up. But hands down, they did a good job.
"PROFESSIONAL"- If I had to describe LHC Services in a single word, then this would be it. Lee had a great team and I was really impressed with their professionalism and sincerity. Man, they just knew what needed to be done. I was looking for a concrete contractor like this in Richmond and I will recommend LHC SERVICES to my friends without thinking twice.
Overall speaking, they did a pretty good job. I was impressed by their approach. I wasn't sure whether I should build a garage or not because I did not know anything about building a garage. This is where I am really grateful to LHC Services because no matter what kind of questions I had on my mind, they answered all of my questions with patience.
Well, to be honest, I didn't really know anything about LHC. As I needed a garage desperately, one of my friends advised me to hire these LHC folks and I wasn't disappointed. They were sincere about their job and I am extremely happy with the garage.
Extremely impressed with the LHC guys. Just loved the way they went about their job. The company has some of the best people for the job and I was lucky enough to pick them. They did not do too much on the first day. They just asked some basic questions. The next day they just started working in full swing and finished the job even before the deadline.
Before contacting LHC Services, I contacted other contractors in Richmond. But sadly none of them could live up to my expectation. They couldn't answer some of the simplest of questions regarding garage building. I almost gave up. But after contacting LHC Services, I changed my mind and I don't regret it.
My wife and I needed a garage and LHC Services delivered it. My wife and I were a bit skeptical at first but after talking to them, all of our doubts were gone. We just knew that they were perfect for this job. They just knew what to do and they did not disappoint us.